Stamp presses for pillars, ball candles, votives, cores, waxy articles
Equipment for pressed candles and with wick and without wick.
Hydraulic presses with accessories, with dipping machine etc.
Here you can find a selection of reference machines:
Choose your machine and read more!
HPA and WTM Stamping press and dipping machine
admin
2021-12-22T10:31:57+01:00
Hydraulic stamping presses in various designs with 4, 6, 8, 12 or 13 stamps.
Diameter up to 100 mm, length up to 300 mm. Variety of shapes possible.
Colour dipping machine in full-electric design. Various parameters can be conveniently adjusted via touch display and saved as a recipe.
Optional:
Weighing system and automatic readjustment of the powder quantity.
Wick withdrawal as burn-through protection
Cleaning station for ball candles and floating lenses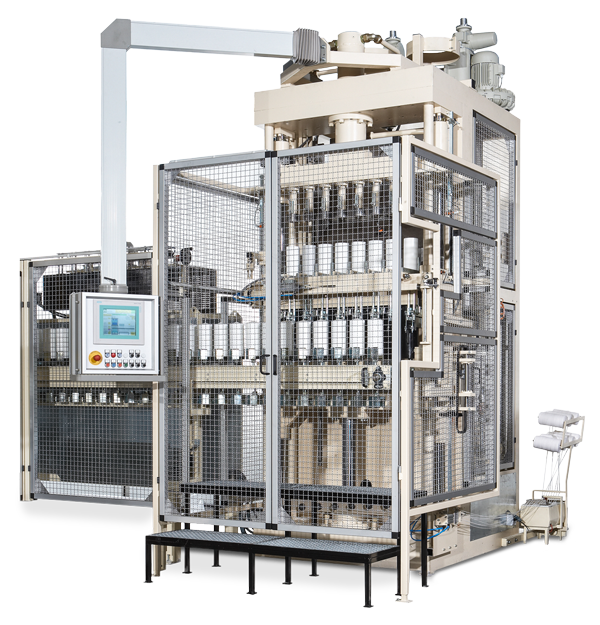 Flexible presses for large pillar candles, with center wick, or for 2, or 3, wick candles, for cylindrical, square and profiled candles, as well as for ball and egg candles. Equipment:
Dialog guided control

 

Memory of candle parameters,

quick tool changer

Wick length monitoring
Design variants:
1 tool up to ∅ 200 mm
2 tools up to ∅ 150 mm
4 tools up to ∅ 100 mm
HPA and WTM
Pressing line for maximum flexibility
Possible options:
Heated pressing tools, optimized for high pressing pressures when pressing alternative raw materials, and at the same time suitable for pressing candles with minimum possible weight.

Preselection of up to 4 candle lengths in sequence (Advent wreath packaging).

Preselection of up to 6 colors, thus full flexibility. A certain number of candles in pre-selected lengths and colors can be produced alternately in cycles. Perfect for display packaging where candles need to be color sorted.

Depending on your needs, candles can be produced with wicks pressed in, or with wick holders.
Small powerful rotary press for continuous pressing of smaller candles such as tea lights, maxi lights, sacrificial lights, refills , votives and candle cores for placement in filled jars.
The electric drive makes the machine energy efficient, space saving and quiet.
Optional vacuum suction cup for paraffin powder available.
Ideal also for linking with core inserter.
We supply powder production equipment in various sizes and designs. The cooling drum can be optimized for the production of colored paraffin for easy cleaning.
The cooling drums, overturned on the outside and therefore 100% round, are made of stainless steel as standard.
Capacity : 100 kg to 1.200 kg / hr.
Heating : steam, hot water or electric